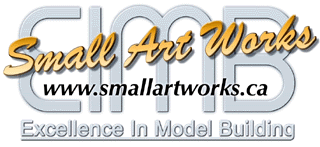 Batcycle
UPDATE!
Since this model and web page was created, the kit depicted here was re-released by Polar Lights and is currently available in a proper and improved injection-molded kit, which is much easier to build and is of superior quality than the re-casting that is portrayed in the description below. The new kit would likely yield better results than the re-casting that was built in the article below... However, please keep in mind that the model shown on this page was made from a poor (actually very bad) quality recasting of the original kit, and the writing reflects this "pre-re-release" example...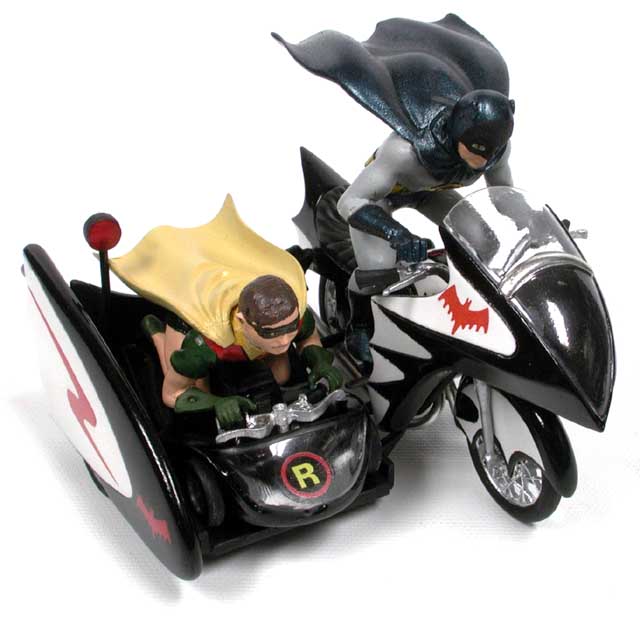 This model of the Bat Cycle was rescued from a really horrible re-casting of the old Aurora kit. I have no idea who recast this model with such a low quality standard, but you can buy it for a ridiculous price from John F. Green if you really want one badly enough.
The model's main frame was completely unworkable, so I had to make a new one from scratch, salvaging only the engine block. Many other parts had to be scratch built, including the brand new exhaust pipes turned from aluminum stock and the entire front forks assembly. Most of the rest of the parts needed to be heavily modified. The front fender had to be re-worked along with a good chunk of the rest of the model. All wheels on both the bike and sidecar as well as the "go-cart" spin freely on this model.
Although the original Aurora kit could have been made by the novice, you need to be an experienced modeler in order to build this re-cast version!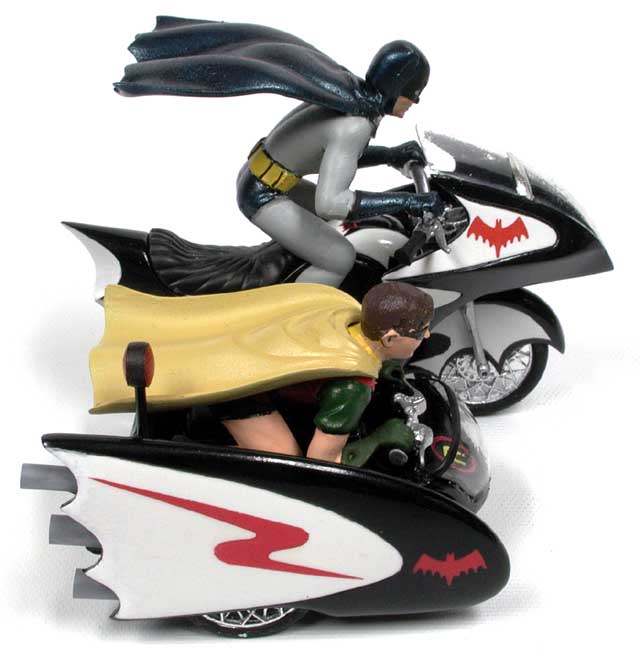 Remember, this model measures a mere four inches in overall length!
The 'cycle was finished using automotive laquers and clear coated. Decals were provided by the customer from an unknown supplier. Some decals were modified or made from scratch for this model. A lot more work went into this tiny bike than appartently visible.
Please be patient while the rest of the page loads. Lots of pictures below!