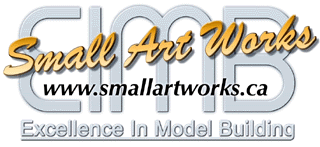 1980 Trans Am Pace Car
in huge 1/8th scale!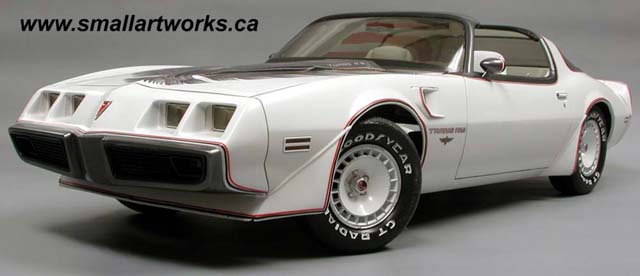 This is a model of a 1980 Trans Am built for a customer who owns the real thing. The model is built from the massive 1/8th scale Monogram kit mostly "box stock" but painstakingly painted to match the full sized car.
The engine and chassis of the model were weathered to represent a car that was at least a few years old and had been driven often rather than kept showroom new. Besides, a little weathering in these areas imparts a sense of depth and realism and also helps to hide some of the kit's flaws and lack of detailing in some areas! (scroll down to the botom of this page to see the engine as it looked before installation onto the chassis)
Since the kit is furnished with decorations to build a black car with a tan interior and gold trim, I had custom decals made by JBOT to represent the Indianapolis Pace Car version including the gorgeous Firebird on the hood, beautifully printed with a glistening metallic finish. The car was painted using automotive lacquers and pinstripes were made from signmaker's vinyl sliced into individual thin strips. The entire body of the car was clearcoated after the decals and pinstripes were added.
The photos shown here are NOT retouched.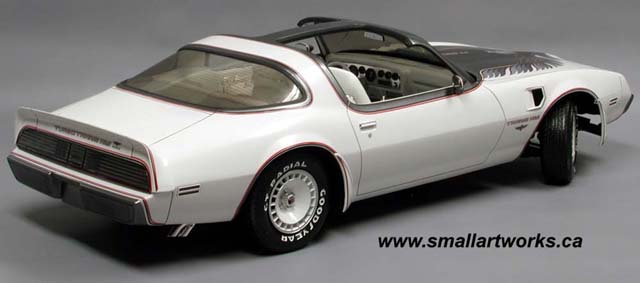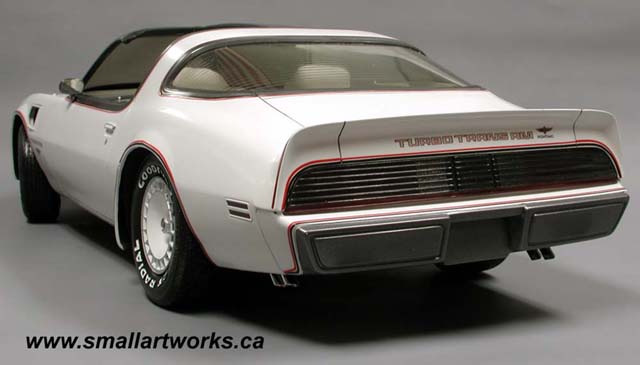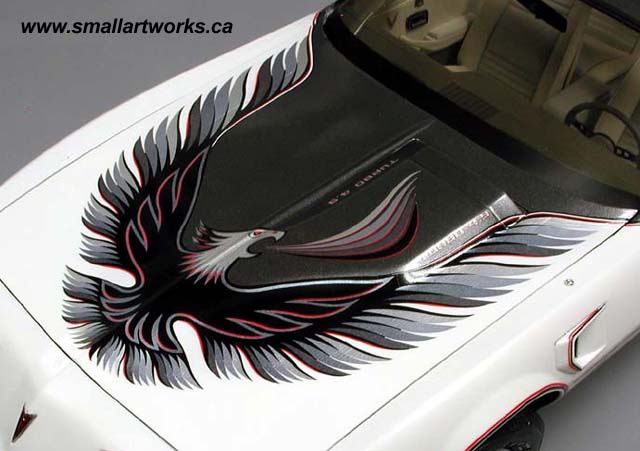 The Monogram kit itself, although large, is poorly engineered with clumsy and weak parts fit, but at this size (the model measures about two feet long!), manufacturing shortcuts obviously had to be taken to keep the costs, and therefore retail price of the kit low.
The most important details are there, but some annoying things, like tinted headlight lenses and other gray-tinted lights instead of clear are inexcusable and impossible to fix when building the model since one cannot "untint" the plastic. But this was the age of tinted windows and kit manufacturers would advertise this bad idea as a bonus when in reality completely clear parts would have been preferable by far.
I had to modify some parts for added strength such as laminating some brass strips to the underside of the opening hood to keep the correct shape to match the fenders (that was a particularly difficult problem to fix) and using screws in some areas that should have just been glued since if the kit were built as per the instructions it would have been far too flimsy to ship to the customer.