In an effort to diversify our products, Small Art Works is proud to produce the ONLY truly accurate scale model kit of the famous 15 foot bottom Lunenburg Trawl dory.

Built in the popular 1/25th scale, common for vehicle models (or, in a pinch, can pass for a 14 foot "Bastard" dory at 1/24th scale), the model is suitable for display with like-scaled model collections, for example on the boat trailer of your favourite car, truck or SUV model.
This model replicates with extreme accuracy the details and proportions of the 15' bottom length Lunenburg dories
(dory sizes are measured by the length of their bottoms rather than overall length)
that were built and used during the heyday of schooner fishing off the Grand Banks; the exact type of dory used on the famous Bluenose Schooner and most of the Canadian and some American fishing fleets used during the 1800's through the first half of the 20th century.
The Lunenburg Dories are still built today for recreation, including the International Dory races held annually in Lunenburg, Nova Scotia, and Gloucester, Massachusetts.
The
Small Art Works L
unenburg Dory Kits are p
roduced in co-operation with The Dory Shop, the oldest continuous production commercial dory building company in North America.
Measurements of exising Lunenburg Dories and dimensions taken from historic molds and actual dory patterns (some of them nearly a hundred years old!)
were used to develop the kit. The models are available as kits to be assembled by the purchaser or, by request, fully finished at extra cost.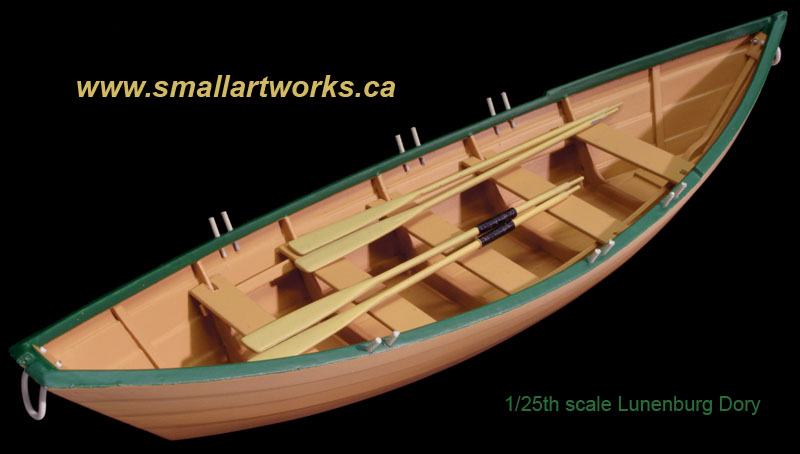 A Bounty of Features:
The

only

truly accurate plastic model kit of a Lunenburg dory ever produced.
Based on the 15' bottom length "Trawl" Dory, the kit measures 9-1/2" long.
Can pass for a 14 foot bottom "Bastard" dory in 1/24th scale.


Molded in quality urethane resin with styrene and butyrate parts.

One piece molded hull for easy assembly... No tedious planking necessary!


Kit replicates the exact style of 2-man dory used on the world-famous "Bluenose" Schooner.

Accurately scaled directly from historical patterns that built the real thing for nearly 100 years!

Accurately reproduced , separately molded Lunenburg Dory "knees" (frames).

Correct Dory-Lap planking also replicated.

Removable "thwarts" (seats) which allow dories to be stacked as they were on a ship's deck.

Materials to build correctly scaled oars and thole-pins included.


Full historical and educational documentation included!

Produced in full co-operation with "The Dory Shop" which has been building real working dories for nearly a century, and the oldest continuous production commercial dory-building shop in North America!

Colour chips of the actual "Dory Buff" and "Ship's Green" marine paint, the unique and traditional colours used on the full sized boats, are included in the kit to use as accurate reference!

An excellent introduction to "multimedia" kits for the moderately experienced builder!


Assembly instructions will guide you step by step resulting in a beautiful model you can be proud of!

Available by special order at extra cost as a fully finished model for those who do not wish to build the kit themselves.




Kit is developed, mastered and individually manufactured by hand, right here in Nova Scotia, Canada!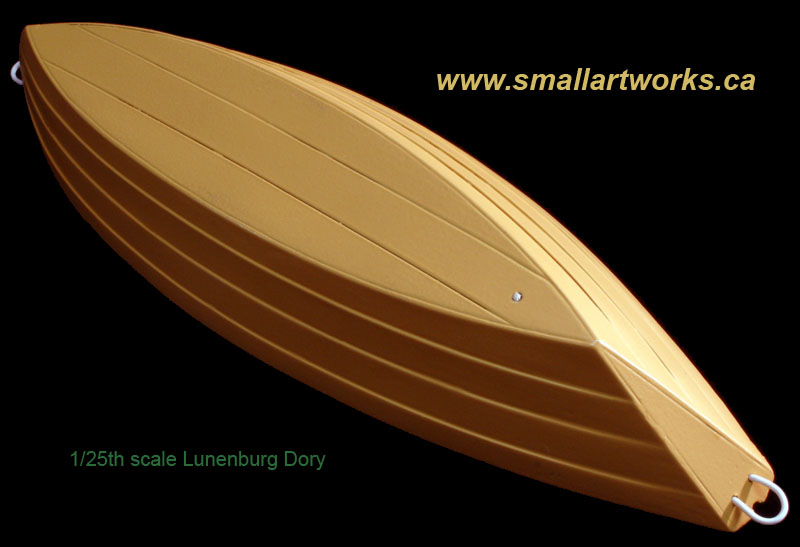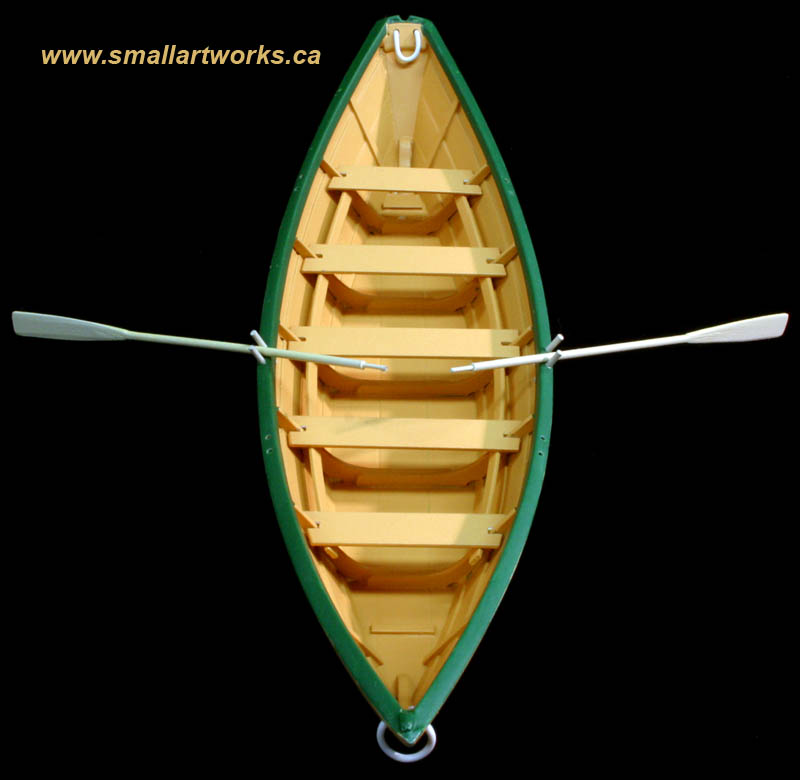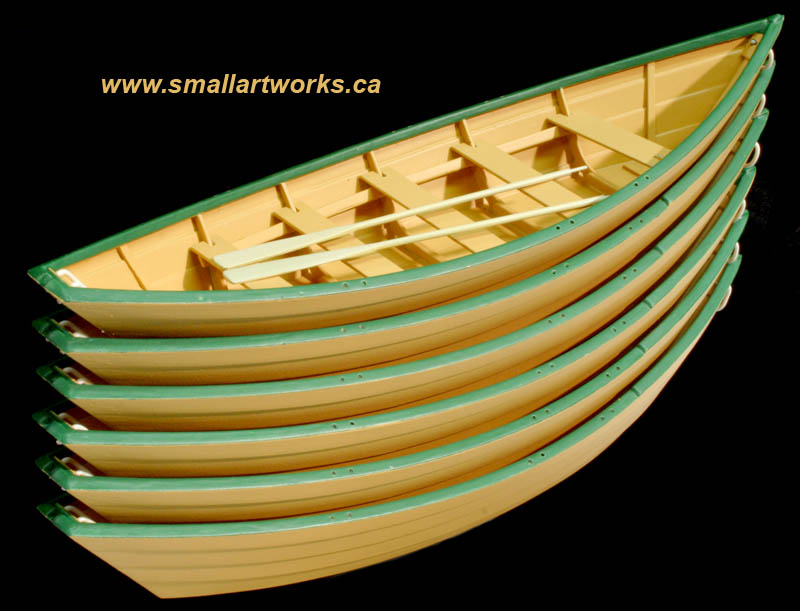 Picture above shows how dories are stacked when thwarts are removed. Kit contains ONE unassembled dory model

FREE BONUS!
Actual full sized wooden dory Thole Pin included!


Pricing:



NEW SALE price for the unassembled kit is is only

$39.95 USD

plus shipping.

Please add shipping (small packet air) cost as follows:



$15 shipping to USA




$20 shipping within Canada




$30 to rest of the world



If you are ordering more than one kit at a time to the same address, please send an email and let us calculate the shipping charges.



To order, please PayPal $39.95 USD plus shipping cost shown above to "jim@smallartworks.ca" with "Dory Kit" in the subject line.